This article will show you how to update or add an employer.
From your dashboard navigate to "Payroll" and select "Employers." Here you will see a display of your Employer List.

From here you can:
1. Edit a current employer by selecting the blue pencil. You have the option to edit employer name, deposit amount, and currency.
This is where you can update your direct deposit amount. Don't worry about it being exact, just an approximation of your expected wage.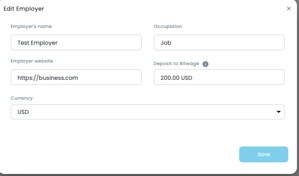 2. Delete an existing employer
3. Add a new Employer -first you will select the currency your employer will be paying you with and then enter your employment details.